PCGS 1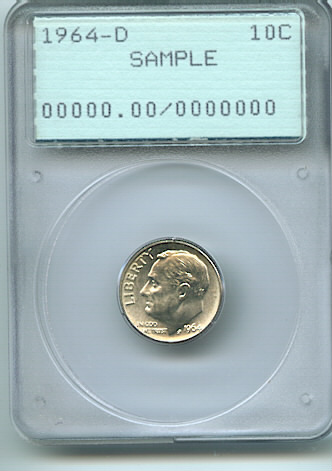 PCGS1 is very similar to PCGS2 but has 000000 as the serial number instead of .64/7000023. The coin is a Roosevelt dime and is graded MS-64 with the word "Sample" below. This is the scarcer type of the first two types.
PCGS 1.1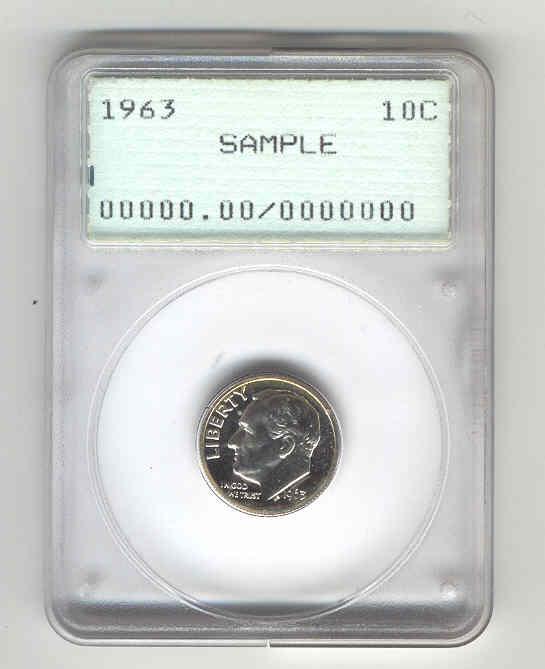 This is the same scarce type of slab and label as PCGS 1, but this one has a proof dime inside. You can tell a difference even by a scan in the quality of th coin, and this type surfaced on ebay in 2004. I imagine it will be as hard to locate as PCGS 1 and would be a highlight in a PCGS sample slab collection. Keep your eyes open for this type!
---
PCGS 2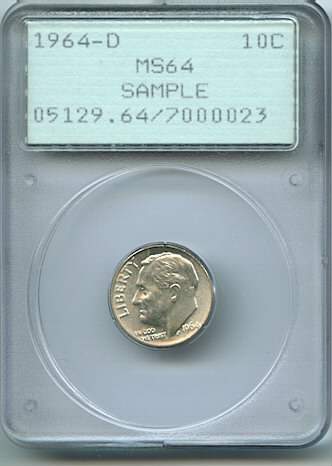 Known as the "rattler" holder, the early PCGS holders were used from 1986-1989 and are still seen sometimes today. This sample was given out at most of the shows during this time period to acquaint collectors with their slab.
PCGS 2.1
Here is a neat sample and just like PCGS 2, except for the fact that it has a Proof coin inside instead of a Mint State example. This one was sold on ebay and I haven't seen any more like it yet. The Mint State examples are easily found, but this could become the scarcer of the two if more people report not seeing them.
---
PCGS 3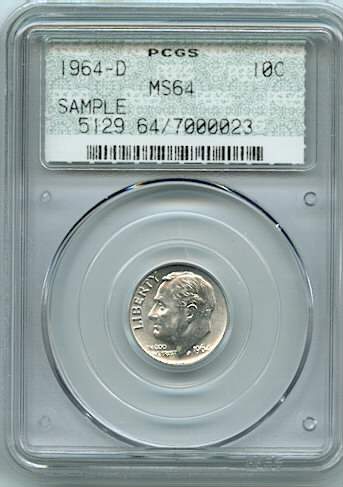 Within a couple of years, a dealer got the bright idea to counterfeit the PCGS slab and make his own slabbed coins. It worked for a little bit, but he was soon caught. It brought too the attention of PCGS (and the other services) that better security had to be used on their slabs so that if someone tampered with a slab, it could easily be detected. The newer slab had an outer ring and a hologram on the back. The label was printed with thousands of small dots on a dot matrix printer. The "Doily label" slab as we call it today was born but did not last for long. Made from August of 1989 through January of 1990, few of these samples survive.
---
PCGS 4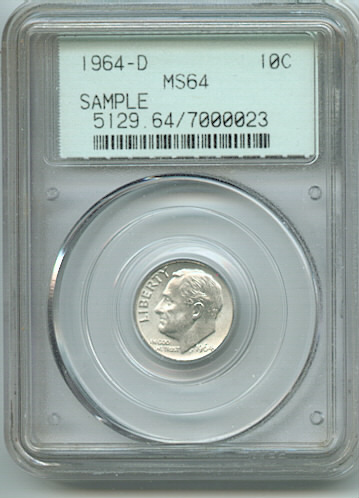 Removing the doily and placing a green label was the next step in PCGS's slab evolution. The sharp outer rim was still used on this example. All samples from this time period either have a MS-64 or MS-65 Roosevelt dime inside although the dates vary.
PCGS 4.1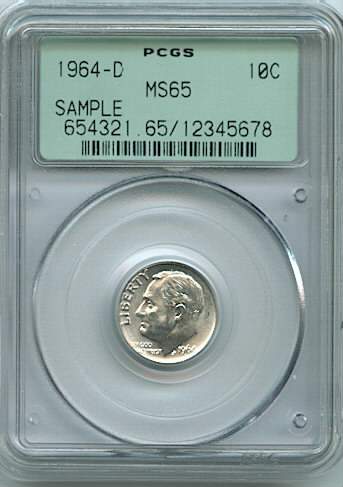 Here is a label that shouldn't even be in this kind of slab! The newer slabs like PCGS 5 used a different label than PCGS 4. When the slab changed, so did the label. In PCGS 4, the edge of the label has small perferations around the label rim, while PCGS 5's label seems to have been cut out, and has a smooth, even rim. Somehow samples were made with the newer label in the older PCGS slab.
PCGS 4.2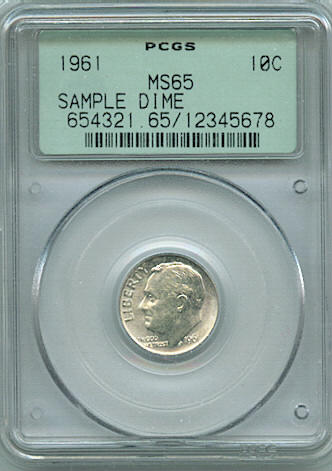 This one really suprised me when I found it in an ebay auction. The label is the same as PCGS 4.1 (without the perferations) but also has the word "Dime" added after sample. So far this is the one and only PCGS sample slab of this type that I have seen with the denomination after the word sample. A neat slab and I bet more are out there, they just have to be found.
---
PCGS 5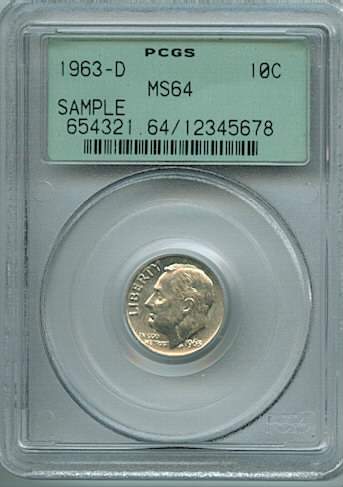 PCGS5 has a slightly different label with a different type of font being used. PCGS might have upgraded their computers and bought new printers. The main difference is that the slab is now one piece and the outer protective sharp rim was removed. A fairly common slab with the MS-64 grade and a little harder to find with the MS-65 label.
PCGS 5.1
A sub-variety of PCGS5 with the only difference being "Sample" moved over to the right hand side of the serial numbers. I recently discovered this sub-type and it is unknown how many were made or how many survive today.
PCGS 5.2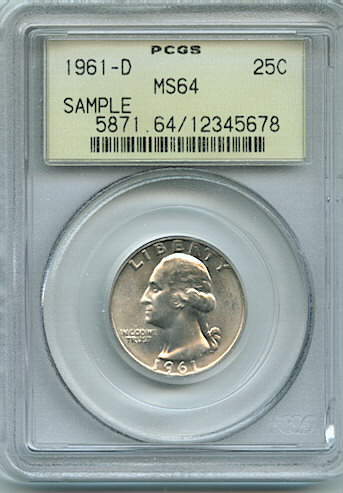 This type was not known until November of 2003, when a small hoard came on the market from a private collector. It is unknown how many were made. Instead of a Roosevelt dime, this sample type has a Washinton quarter inside. The label is a yellow tint, although a few of the pieces I have seen have faded to a light yellow color. Every sample is graded MS-64
PCGS 5.2.1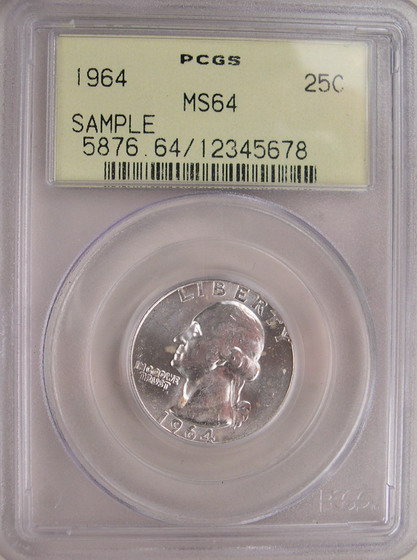 This is a recently discovered (November of 20004) sample slab with the date of the coin being 1964 instead of 1961-D. It is also graded MS-64, and the label is the same as PCGS 5.2. .
PCGS 5.3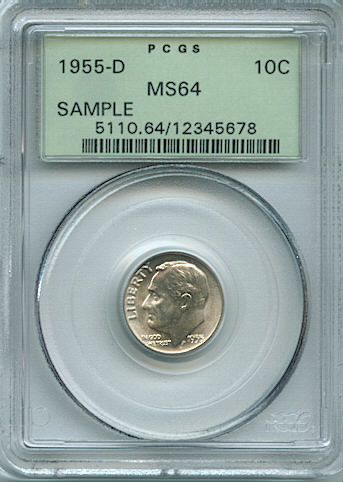 The label is the same green color on this type but the font has been changed to a darker bold with the typeset slightly different. The easiest way to tell them apart from the above samples is to look at the "0" in the denomination. The other samples have a line through it and this one does not. Dates of 1955-D, 1959-D and 1961 have been found, but so far are harder to find than the normal and very commom PCGS 5.
PCGS 5.4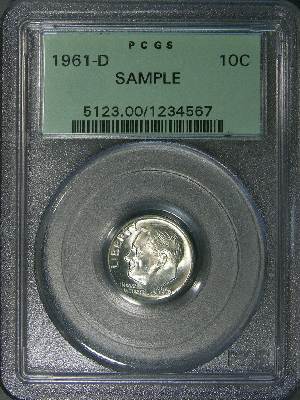 This label is exactly the same as PCGS 6.3 but this type has a silver Roosevelt Dime inside. The coin is not graded.
---
PCGS 6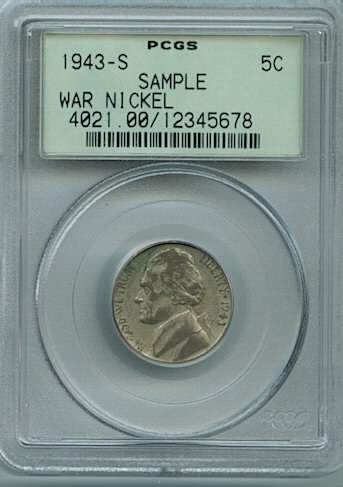 "Sample" appears where the grade normally would be and the coin was changed from a Roosevelt dime to a War nickel. Some of these samples still have the paperwork accompanying them from Tangible Assets Gallery who gave them out to clients to acquaint them with a "Sample PCGS Certified Coin." The nickel I have is really beat up and I think they could have used a better example. More people would have saved them had this been the case.
PCGS 6.1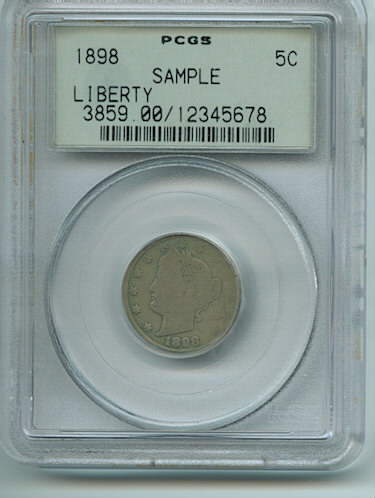 Very similiar to PCGS 6 with the same type of label and word placement, but with a worn Liberty Head nickel. I don't know if this was a special dealer sample or given out to the general public. This sample was discovered in August of 2003 and the rarity/history is still being researched.
PCGS 6.2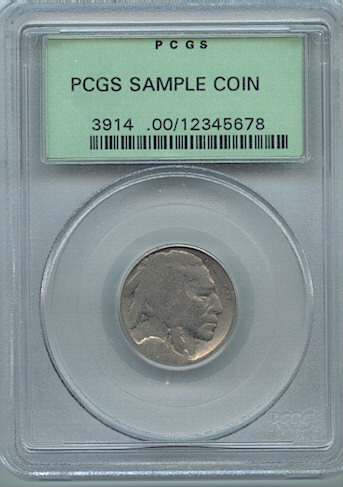 This sample and the following two samples were sold by an Arizona dealer in July of 2004 on eBay. These never seen before types brought a lot of interest and strong bidding. This sample has a no date buffalo nickel inside with "PCGS Sample Coin" all on one line on the label. There is a space to the right of the beginning of the serial number and before the ".00" which is odd.
PCGS 6.3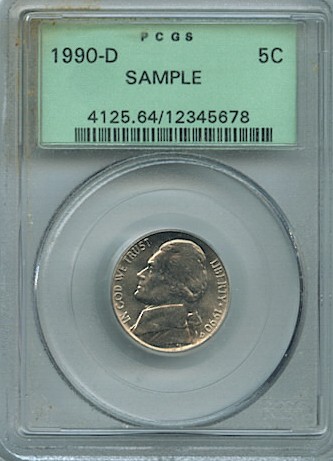 Around the same time period, another nickel was used but this time it was a Mint State Jefferson nickel. I would grade the coin MS-64. "Sample" is in the middle of the label and the space in the serial number has been removed.
PCGS 6.4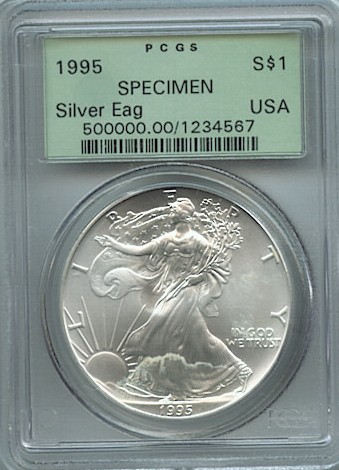 Now this is a neat slab! I am calling this slab a sample for several reasons but PCGS doesn't even remember making it! Instead of the word sample in the middle of the label this one has "Specimen". The coin is a normal MS-68 silver eagle and not a special strike or proof specimen. The serial numbers have "500000.00" before "/1234567" (which is very similar to the 12345678 on the normal green label samples). Could it be the 500,000th coin graded? Maybe. Could it be a sample? Most likely.
---
PCGS 7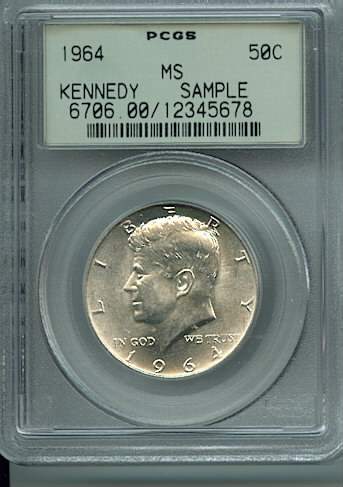 Instead of a grade on this one, PCGS just put "MS" which stands for "Mint State." "Sample" is placed above the right hand side of the serial number like PCGS5.1. This sample was a dealer only sample to show them the new label. They were given to PCGS dealers and not the general public. It contains a 90% silver half dollar and I think they did this so the slab had a better chance of staying intact or not being thrown away by the dealers. A neat sample, and most of the Kennedy Halves I have seen are in the MS-64 grade range.
---
PCGS 8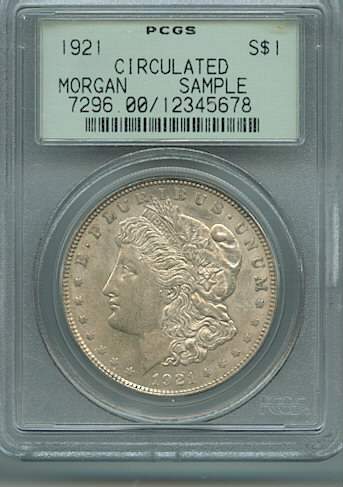 Very similar to PCGS7 but "MS" is now changed to "Circulated" and the denomination becomes a Morgan silver dollar. This one also is a dealer sample. I have only seen a few of these and it might be a very scarce slab as more people search for them and report not finding any.
PCGS 8.1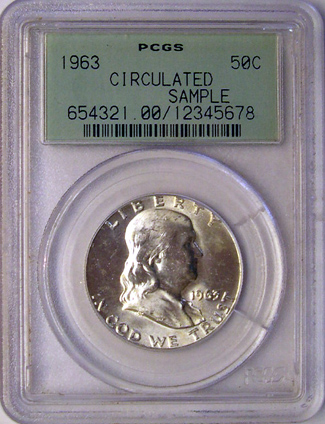 As of May, 2004 this is the highest price sample ever sold - a record holder! It sold for $265 at the end of April, 2004 on eBay and beat the HALLMARK price of $250 set just a few weeks before that on eBay. It is the only known sample right now with a Franjklin half and suprised all collectors when it came up for sale.

It has the same label type as PCGS 8 but with a Franklin Half inside. The coin is a nice Mint State piece despite the "Circulated" label and seems to follow in line like the PCGS 7 samples. This is a type to look out for at shows or in dealers cases!
PCGS 8.2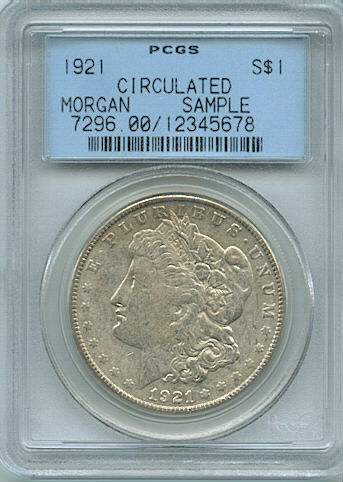 This sample is the exact same as PCGS 8 but with a blue label! It is not a green label faded slab but a true blue color and as fresh as the day it was slabbed. This is the first one of its kind I have seen but more should be out there! Keep your eyes open for this type!
---
PCGS 9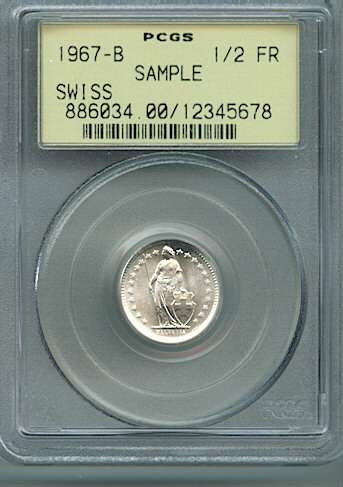 The first PCGS sample slab with a world coin inside! This is a really neat slab with a cool coin. It is not graded, but the coin is a choice Mint State example. The first sample of this type was found a few months ago on eBay and sold for over $40. Since then, I have only seen 2-3 more of them. PCGS began certifying certain world coins in the early 1990's and this might have been a sample to show what a world coin would look like in their slab.
PCGS 9.1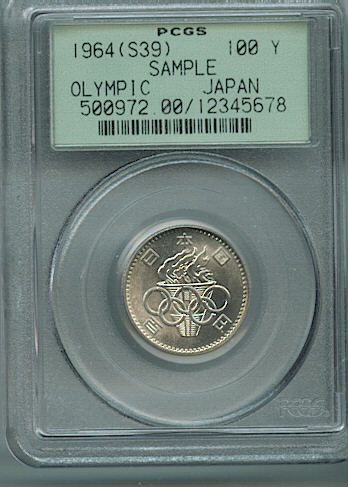 Another world coin in a PCGS sample slab! This sample has the green colored label compared to the yellow label of PCGS 9. It was made around the same time period and this is the one and only one I have ever seen. The coin is in Mint State condition, and the slab has the standard "12345678" for the serial number like the other more common dime samples. This is definately one you want to look for!
---
PCGS 10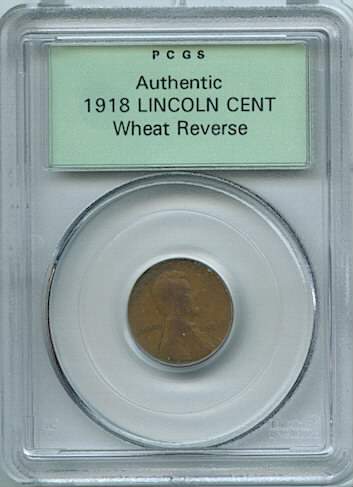 This slab was once thought to be scarce. It might still be semi scarce if no one saved them, but recently I found out from David Hall who told me "These were an item in a Random House marketed Scott Travers "Coin collecting starter kit. "I believed we did either 50,000 or 100,000 of them." If this is the true production numbers, this is the largest number of samples made for any time from any of the services! Most samples don't even have 1,000 made of one type.
The Back of the slab is Green and white and does not have the hologram. The dates I have seen range from 1918 through 1929 and each coin is in Fine through Extremely Fine condition. Group lots of 4-8 of these samples can easily be found. This type could still be a challenge for a "short set" of sample slabs by trying to get one of each date.
---
PCGS 11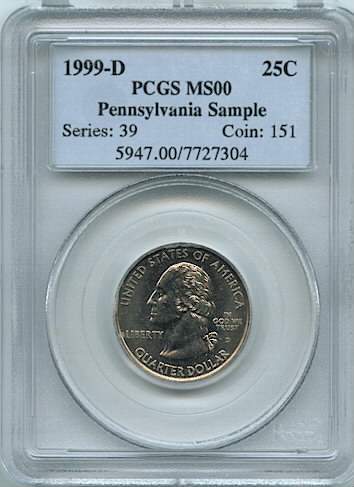 The first State Quarters were released in 1999 and many new sample slabs were made. There are several varieties that exist with different placement of the word "sample" either to the left or right of the State and the placement or lack thereof of "MS00". Future sub varieties as I find them will become PCGS11.1, 11.2 etc.
PCGS 11.1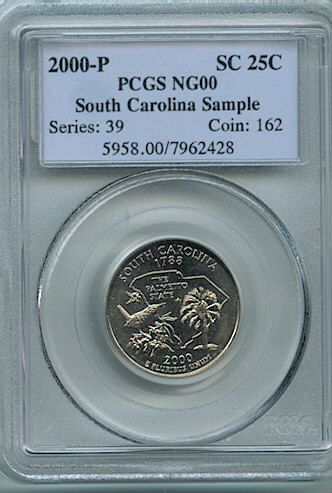 Instead of "MS00", this type was produced for one or two States and has "NG00" which probably stands for No Grade. A harder to find type from early 2000.
PCGS 11.2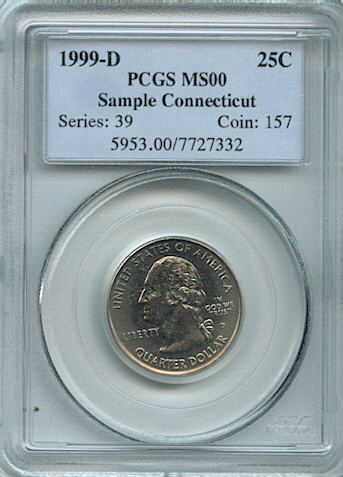 The word "sample" is moved to before the States name on the label.
PCGS 11.3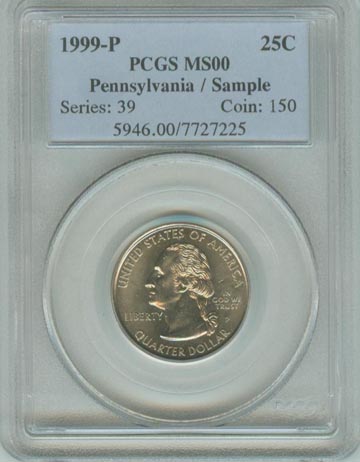 This one is very similar to PCGS 11 with the same coin and label placement except there is a "/" between the States name and the word "Sample".
PCGS 11.4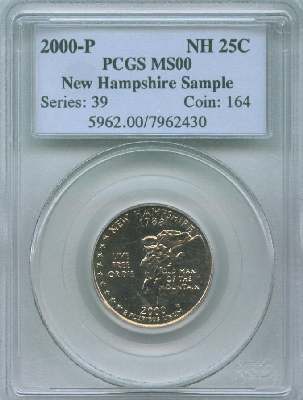 New Hampshire P quarter with the word sample below "MS00".
PCGS 11.5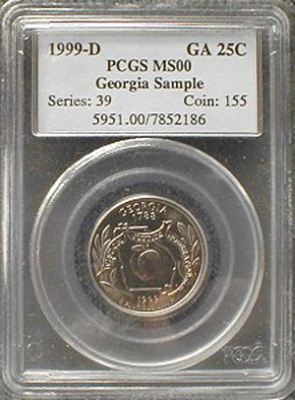 ---
PCGS 12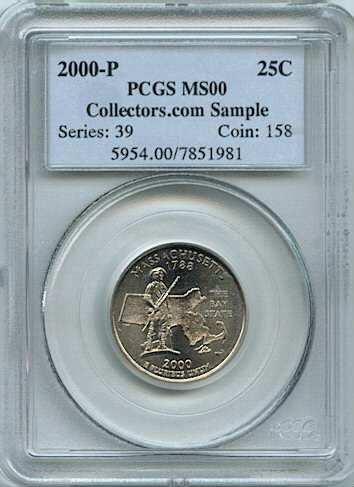 The first and PCGS sample slab to have a pedigree to a website. These were given out at the 2000 Long beach shows.
PCGS 12.1
Like PCGS 12, this sample has a website on the label. Instead of collectors.com, it has PCGS.com which is the main website for the PCGS grading service. This is the only type I have seen with their website on it and is intersting because of the low value item inside. It is unknown how many were made at this point or where they were given out at.
PCGS 12.1.1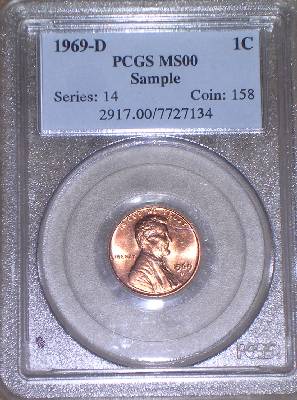 The PCGS.com website is removed and an older Lincoln cent was used in its place.
PCGS 12.2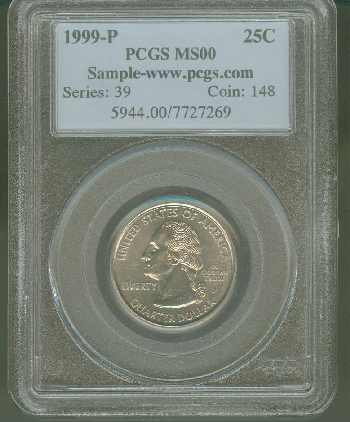 One of the few PCGS samples with their website on the label. The quarter is a Delaware State quarter and it seems like PCGS was really promoting their new website back in 1999, the year the State quarter came out.
---
PCGS 13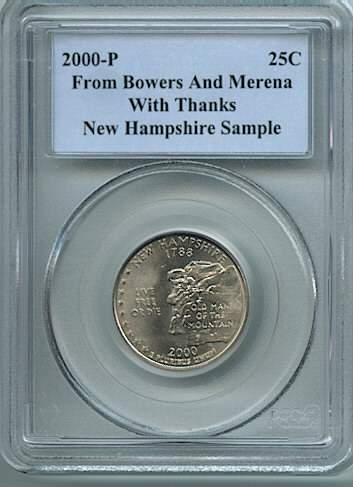 When the New Hampshire State quarter was released in 2000, Bowers and Merena (a division of Collectors Universe which owns PCGS) had samples made to hand out at shows. Three years later they are still giving this sample out with no changes to the label. It is unknown how many were made.
---
PCGS 14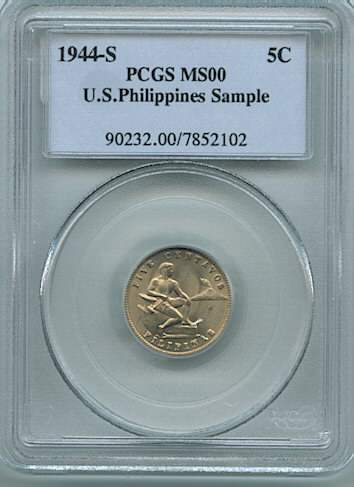 This is the second sample slab to have a world coin inside. It is a Philippines issue 5-cent denomination coin and the label has the word "sample" below "PCGS MS00".
PCGS 14.1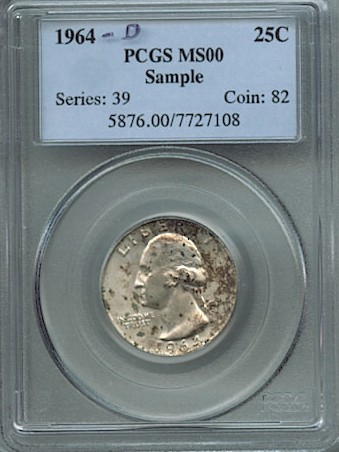 About the same time period that PCGS 14 was produced another U.S. coin sample was also made. I have seen 2-3 of these same type of sample slabs and each one has a 1964-D silver Washington quarter which is mislabeled on the slab. PCGS put them as "1964" and not 1964-D which they should be. As you can see by the picture someone wrote the mintmark on the slab to note the error. The coin is really spotted and it seems to me that they didn't care about the grade or looks of the coins on these samples.
PCGS 14.2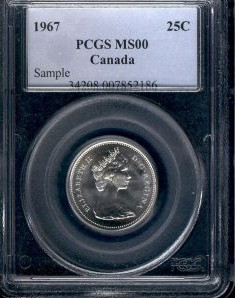 Another neat world coin sample! The coin inside this sample looks superb with almost PL (proof like) surfaces. The word "Sample" is in the lower left-hand corner of the label and not below the grade because the country's name was placed there.
PCGS 14.3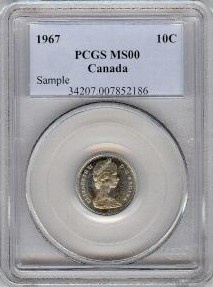 Same date and style of label as PCGS 14.2, but this one has a 10 cent denomination inside.
PCGS 14.4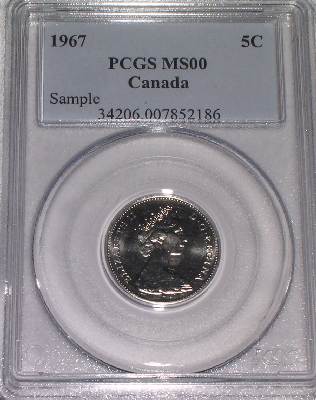 Just like the above two samples, this one has no bar code on the front and the word sample is in small letters towards the bottom lower left. The denomination is 5 cents and the smallest of the Canadian coins in a PCGS sample slab.
---
PCGS 15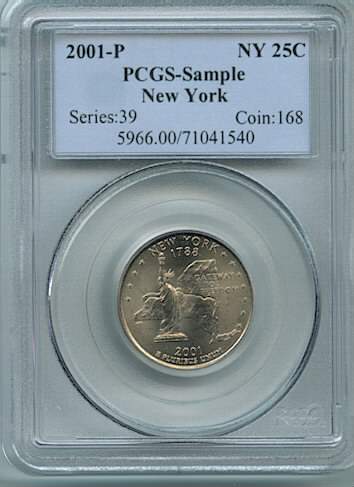 For the New York quarter, PCGS changed the label twice for the P Mint sample, and changed the wording by the time it came to slab the D mint sample slab.
PCGS 15.1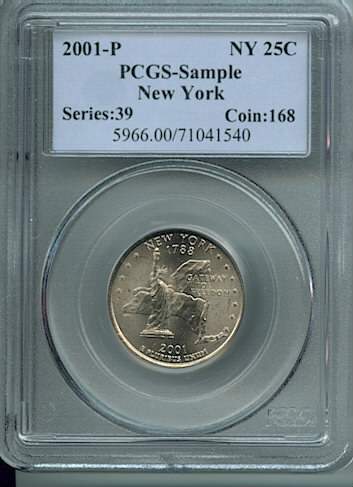 Same as PCGS 15 except the series and coin number is in bold.
PCGS 15.2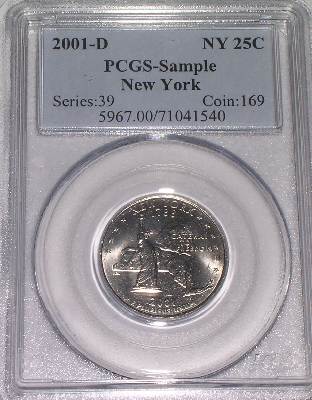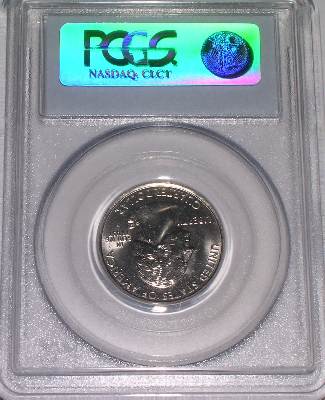 Different serial number and a large size hologram on the back of the slab. These first appeared in September of 2005 at the Long Beach Expo.
---
PCGS 16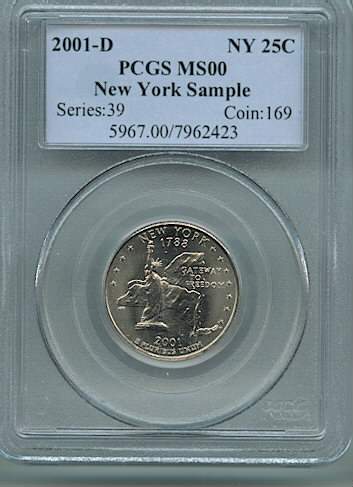 "PCGS MS00" replaces the earlier "PCGS-Sample" on the first line and "New York Sample" is added on the second.
---
PCGS 17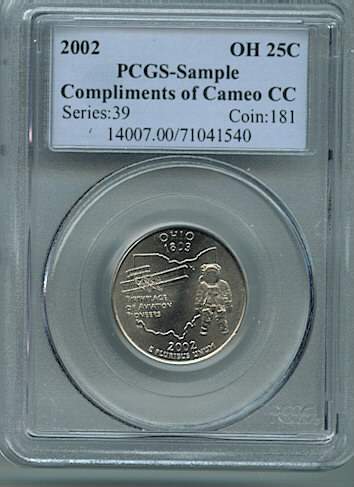 This slab has both the words "Sample" and "Compliments of…." They were given out by Cameo CC, a modern coin dealer based out of Ohio. The coin is choice, and could easily make the MS-66 grade. A sample slab with a New York quarter was also made for them by PCGS.
PCGS 17.1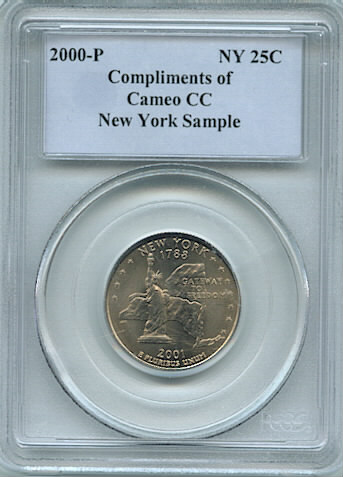 This is a really neat sample! The label is different than PCGS 17 although they were made during the same time period. To top it off, the date is wrong! I don't know how many were made but this was the first one I had seen like it so far (May, 2004).
---
PCGS 18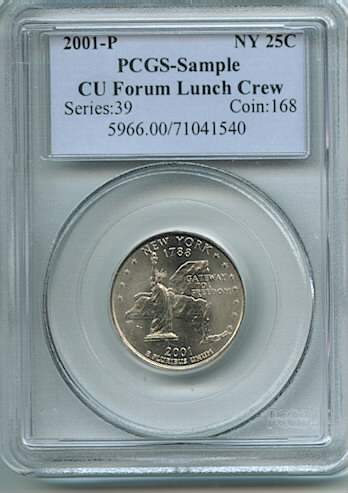 These slabs were given out at a PCGS sponsored lunch at the May 2003 Long Beach show. PCGS Message board members were invited to attend and this slab was a special gift for all that attended. Only 40 were made and it has become one of the scarcest sample slabs made by PCGS. They bring over $60 on eBay.
---
PCGS 19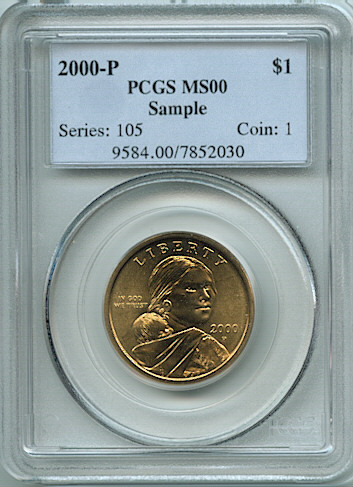 This slab is similiar to PCGS 11 or 12, with "PCGS MS00" staying on the same top line. The difference is that "Sample" is below without a description of the coin on the second line, and a Sacagewea dollar is used instead of a State quarter.
PCGS 19.1
"Sacagawea" is added to the left of the word "sample". This coin is a D Mint and PCGS 19 is a P mint, although I don't know if that matters. Both types could have been made at the same time period or at two different time periods.
---
PCGS 20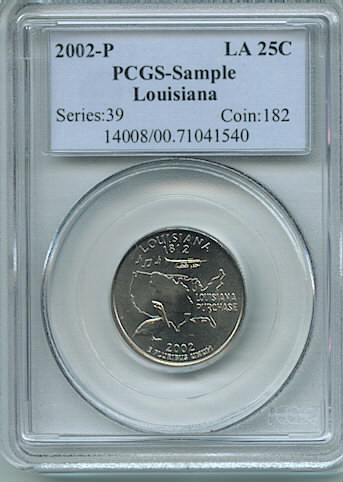 This sample is fairly common and has been passed out at major shows by PCGS for about two years.
PCGS 20.1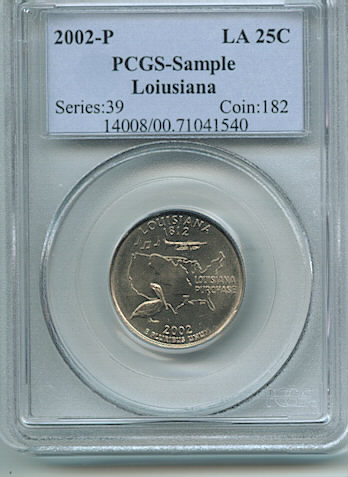 Since 2002, PCGS has been giving out New York and Louisiana sample slabs at every major show. This is the most modern type of label for their samples. What makes this sample unique to the rest of the others over the last two years, is that PCGS spelled Louisiana wrong! Look how they spelled it...... They must have made a batch all with the wrong spellings. Check your samples for this interesting and funny type! I ddn't even notice the mispelling at first.
PCGS 20.2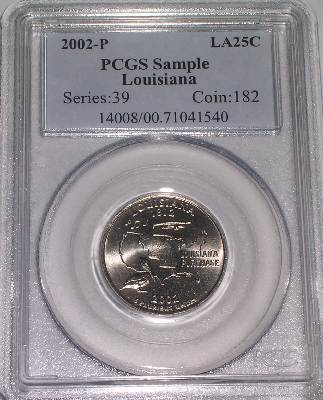 There are many different things about this sample slab. The most obvious is the large hologram on the back. Other differences are the removal of the dash between "PCGS Sample" and no space between "LA25C". Interestingly though they used the same serial number.
---
PCGS 21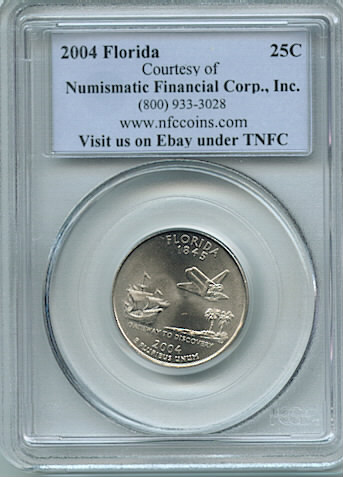 This type of slab is a first for me. The only website PCGS has ever put on their label was their own: www.collectors.com or www.PCGS.com. Now, this brand new sample as of May, 2004 has a phone number, website and ebay ID all in one! NFC is a major PCGS dealer based in Florida and this sample has a Florida quarter inside.
PCGS 21.1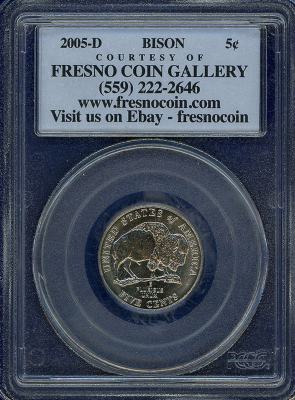 Another company sample with their contact info and phone number on the front label.
---
PCGS 22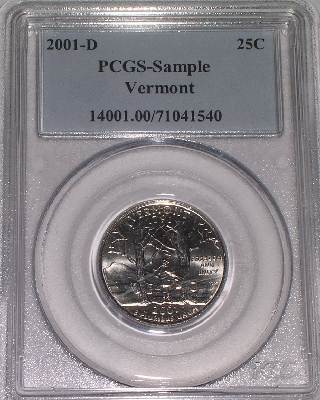 This sample appeared at the 2006 FUN show in Orlando, FL. The label is much different than previous years' samples. The whole font is bold and the type is smaller than usual. There is no barcode on either side, and this type can be found with the following states: Vermont D, Rhode Island P, and Kentucky D.
---
PCGS 23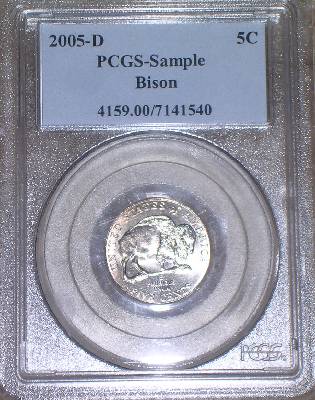 The first Buffalo Nickel PCGS samples appeared at the 2006 ANA show in Atlanta, GA (April). The coins are not graded but the word "sample" is placed to the right of "PCGS". The font is bold but spaced apart. These were given out at several shows before PCGS started using the following sample.
PCGS 23.1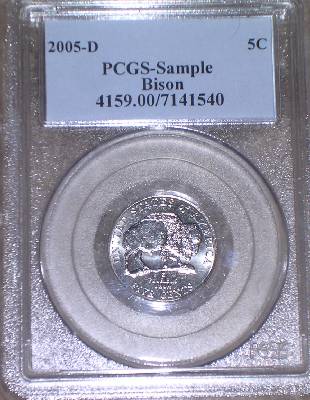 Using the same coin type and label layout as PCGS 23, this sample has the font spaced much closer together and lower on the label. This type first appeared at the Denver ANA Show (August, 2006).